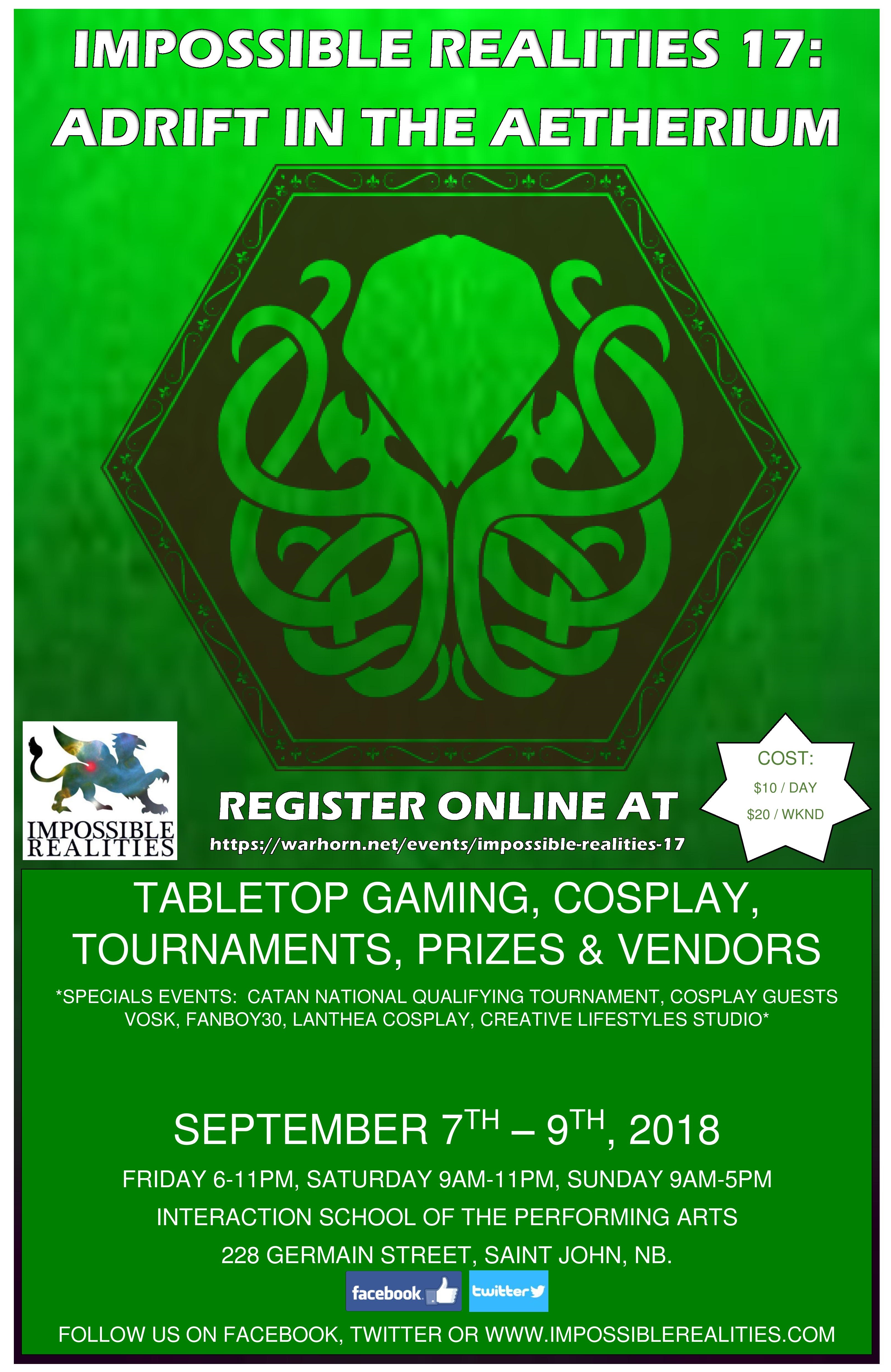 It is time again to get ready for the 17th annual Impossible Realities: Adrift in the Aetherium. A full weekend of gaming on September 7th – 9th, 2018, at the Interaction Theatre of the Arts, 228 Germain Street, Saint John.
To add a game to the schedule, contact us on the Impossible Realities facebook page or Steve Henderson or Dana Betts via impossiblerealitiescon at gmail.com
To add a cosplay event or panel to the schedule, contact Sabrina Barrett Patey on the Impossible Realities facebook page
Please feel free to check out the Impossible Realities Facebook page: HERE
Sponsors:
Elderwood Academy
Cheapass Games
Event cost:
Single Day – $10
Full Weekend – $20
Cosplay Showcases:
Fanboy30 Cosplay and Photography / Matt Parsons
Vosk / Rebecca Lindsay
Lanthea Cosplay / Erica Brookfield
Featured Guests:
Gregory Grondin www.spacepawdyssey.com
Creative Lifestyle Studio
Play to Win (More TBA)
MWAhahaha – Impossible Realities
Zombietown – Impossible Realities
Zero – Impossible Realities
Warhammer 40K – Conquest: the Card Game – Geb Bernard
Codenames: Marvel – Geb Bernard
Boss Monster: The Next Level – Geb Bernard
Game of Thrones: Hand of the King – Geb Bernard
Happy Salmon – Geb Bernard
Incan Gold- The Race for Ancient Artifacts – Geb Bernard
Lovecraft Letter – Geb Bernard
The Fox in the Forest – Maritime Meeple
Mangrovia – Offline Boardgame Cafe
Braverats – Offline Boardgame Cafe
Foodfighters w/ S'mores and Grains expansion – Offline Boardgame Cafe
Boss Monster w/Crash Landing and Tools of Hero-Kind – Brotherwise Games
BattleCon: Fate of the Indines – Strange Adventures
Pixel Tactics: Megaman – Strange Adventures
Duel of Time: Major General – Strange Adventures
Vye: The Card Game – Sand Hat Games
Expect to see added
Board Game Blitz
Magic the Gathering
Dungeons & Dragons (including Adventurers League)
Pathfinder
Shadowrun
Live Streaming of Play to Win
Pokemon
Many other Board, Card and Roleplaying games!
Game schedule (More TBA):
Game information (More TBA):
http://impossiblerealities.com/games-information/
Vendors (More TBA):
Childs Play – Hobbies and Props