Impossible Realities 15: It's The End Of The World and Other Fun Punchlines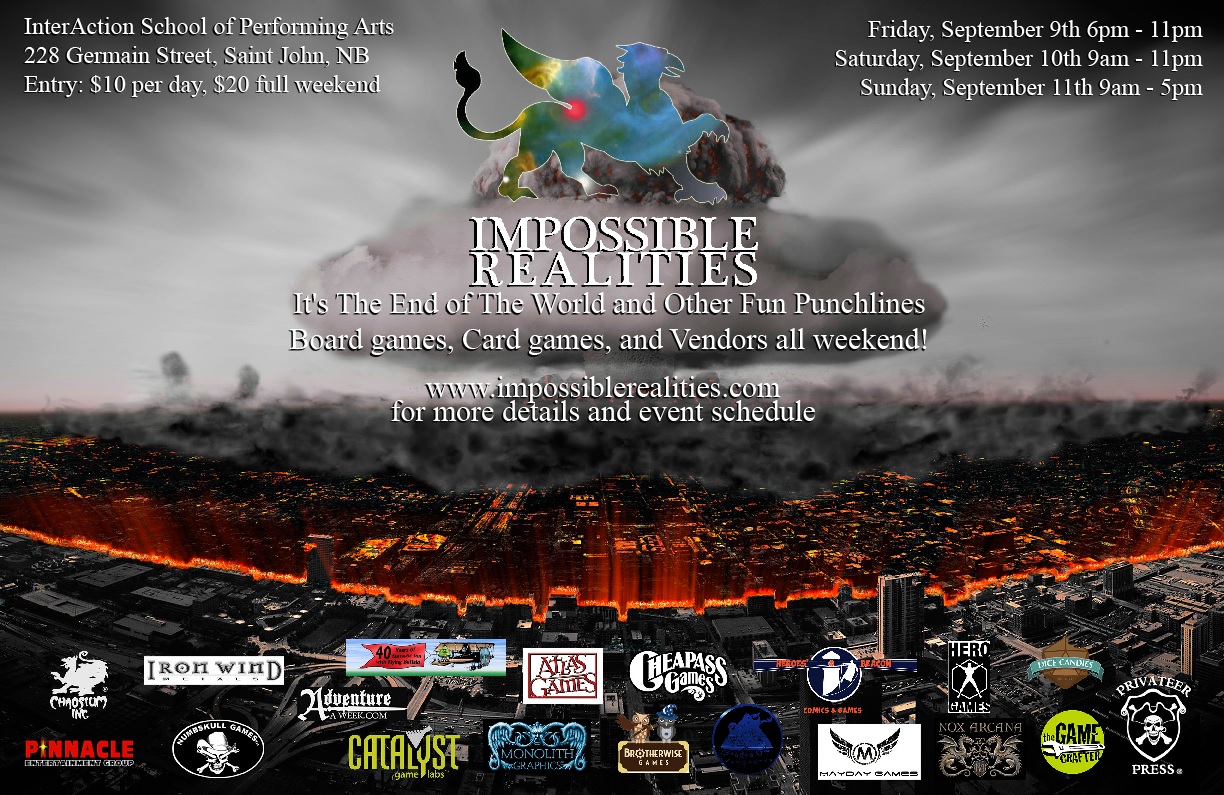 ***Sept 5st Update, schedule is now locked down***
It is time again to get ready for the 15th annual Impossible Realities! A full weekend of gaming on September 9th – 11th, 2016, at the Interaction Theatre of the Arts, 228 Germain Street, Saint John.
There will be a game schedule and vendor list added as it becomes available.
To add a game to the schedule, contact us on the Impossible Realities facebook page or Steve Henderson or Dana Betts via impossiblerealitiescon at gmail.com
Sponsors:
Adventure-a-Week
Atlas Games
Brotherwise Games
Catalyst Games
Chaosium (;,;)
CheapAss Games
DiceCandies
Dreamscape Design
Evil Hat Productions
Flying Buffalo Games
Hero Games
Heroes' Beacon
Game Crafters
Geb Bernard (aka Lady Dovelle)
Iron Wind Metals
Monolith Graphics
Mayday Games
Nox Arcana
Numbskull Games
Pinnacle Entertainment Group
Privateer Press
Rite Publishing
Shades of Vengeance
Event cost:
Single Day – $10
Full Weekend – $20
Play to Win:
The Captain is Dead – Game Crafters
Boss Monster w/2 expansions – Brotherwise Games
Give Me The Brain! – CheapAss Games
Lord Of The Fries – CheapAss Games
Before I Kill You Mr. Spy… – CheapAss Games
Deadfall – CheapAss Games
Kill Doctor Lucky – CheapAss Games
Cthulhu 500 – Atlas Games
Lunch Money – Altlas Games
Three Cheers for the Master – Atlas Games
More TBA
Schedule:
Many individual game descriptions found in a pinned post.
FRIDAY
6:30PM
Abyss – Mat Cobbett (2-4 players)
Call of Cthulhu: The Threat Of Global Warming – (Veteran) – Dana Betts
D&D 5e Adventurer's League, Characters of Level 1-4 – Patrick Smith
D&D 5e Adventurer's League – Ryan Finn
Blueholme Prentice Rules – Ray Saulnier
BattleTech – Darren Drew
Ex Arcana – Chris Duffield
8:30 PM
Cryptozoic Deckbuilder (DC or players choice, crisis or normal) – Mat Cobbett
SATURDAY
9:00AM
ALL DAY MEGACIVILIZATION TOURNAMENT – up to 18 players for this monster of a game. Tournament rules TBA
Pathfinder Society – Tony Spence
9:30AM
Board Game Blitz – Steve Henders & (JeffMcNally – Tentative)
10:00AM
D&D 5e Adventure League – Ryan Finn
1:30PM
"Dungeonbattle Brooklyn" Maximum Xcrawl Pathfinder Rules – Donna Nutter
Pathfinder Society – David Glassford
Takenoko – Julie Matchett
2:00PM
Magic the Gathering Booster Draft ($10 charge to cover cost of packs) – Brian Smart
3:00PM
Least I Could Do the Card Game – Mike Allain
4:00 PM
Battletech Clan Hunger Games style Melee – Marc LeBouthillier
6:30PM
Vampire the Masquerade
Pathfinder Society – Terrence McCallum
Call Of Cthulhu* (beginners) – Dana Betts (This event is entirely dependant on the Megacivilization tournament. If Megaciv does not run, or if it completes before this time, this beginners ONLY session will be offered.)
11:00PM (the late late slot for those people who haven't dropped yet, or want to leave yet)
Do You Worship Cthulhu – Dana Betts (if enough coffee has been offered/sacrificed)
SUNDAY
9:00AM
Era:Survival – Dana Betts
Pathfinder Society – David Glassford
Star Realms Deck building game – Ray Saulnier
10:30AM
BATTLETECH TOURNAMENT – Darren Drew
11:00AM
Lost Worlds Combat Booklet Tournament – Dana Betts
(8+ players tentative). Will run until the end of the con with people reporting results.
1:30PM
Nuclear War – Dana Betts (up to 12 players)
"Mystery of the Haunted Mine" D&D 3.5 – Donna Nutter
King of Tokyo – Ray Saulnier
***Game Descriptions***
***IR15 Game Descriptions***
Call of Cthulhu: The Threat Of Global Warming – (Veteran) – Dana Betts
The Brian Mulroney, a resupply icebreaker heading to CFB Alert on the north tip of Ellesmere Island high in the arctic through the now mostly-clear frigid waters of the Arctic Ocean experiences a threat caused by global warming.
Abyss
For centuries, creatures have ruled without peer in the depths of the oceans. Their kingdom, the Abyss, is respected by all of their allies' nations, happy to find protection there against fearsome undersea monsters.
Abyss is a 2-4 player development game, a combo-building game, and a set collection game in which players will attempt to take control of the various locations of the underwater kingdom. This takes place on three levels: explore the depths of the ocean to recruit Allies of your choice which will allow you to recruit Lords, who themselves will grant you access to the various underwater Locations of the kingdom. Requesting support from the council of peers, and going to the underwater courts for bidding. Players must gain influence of seven lords and gain enough influence to win the game. But beware of the Kraken who watches secretly from the depths. Siding with this powerful force is tempting, as his gifts will make it easier… but comes at a corrupting cost.
D&D 5e Adventurer's League, Characters of Level 1-4 – Patrick Smith
A derelict raft drifts into Mulmaster's harbor carrying a young woman. Delirious with hunger, the only words she seems able to speak so far have been "ash and fire." The only other clue to her identity is an ornate tattoo. Is the woman insane, or is something nefarious at play?
D&D 5e Adventurer's League – Ryan Finn
DDEX1-3 Shadows Over the Moonsea (lv. 1-4)
Life on the Moonsea isn't easy. Bandits, pirates, and cruel lords dominate the land, threatening those who make an honest living there. Now, a new scourge is prowling the waters: A ghost ship has been seen striking small coastal villages, leaving its victims whispering the "eye of a dracolich". 6 playes MAX
Blueholme Prentice Rules – Ray Saulnier
With Law's End secure the local authority can now deal with the bandits who've been becoming more and more brazen. The PCs are tasked with finding their base so the military can whip them out.
BattleTech – Darren Drew
Intro-tech free for all.
– Any Innersphere mech listed with an Introduction tech level (level 1 for all you dinosaurs who refuse to get with the program )
Assault pilots: 4/5
Heavy Pilots: 4/4
Medium Pilots: 3/4
Light Pilots: 3/3
1st place: Most kills
2nd place: Last man standing
D&D 5e Adventure League – Ryan Finn
DDEX03-04 It's All in The Blood (lv. 11-16)
8-10 hour time frame with break at the midpoint.
6 players MAX
Rumors of faceless demonic creatures have been steadily rising in the Hillsfar region, and it is said that far below the surface of Faerun, nestled in the bowels of the underdark, ancient terrors are stirring. The imperilled drow of Szith Morcaine have extended an intriguing offer, but can the drow be trusted, and for how long? An eight-hour adventure for 11th-16th level characters.
Battletech Clan Hunger Games style Melee – Marc LeBouthillier
Total Warfare Base Tech/(Level 2 rules) (Darrin will be on hand to help with rules)
Headshots need Rerolled, and Physical Attacks not allowed.
Clan Mechs only 40-60 Tons, Variants up to 3058,(so no Heavy Lasers, ATM, or HAGs that were used in 3060+ variants)
BV 2800 for Stats.
Named or Unique Mechs are allowed if you find one that fits the other criteria.
Standard ammo only and different kinds must be marked. May start with any bins of ammo previously dumped if desired.
Models may not be proxy'd but let us know and we can try to find you one.
Prizes for Most kills, Second Place and Best Death.
The Map will not be square, It will be round/octogon/hex shaped (still a process). All players start on outer edge facing in, each mech must get so far in (to be determined) towards the center to activate weapons and continue as usual.
Initative/firing order determined by cards, then dice once more players are eliminated. 45 seconds to declare movement or within reason.
DC Deckbuilding Game
In the DC Comics Deck-building Game, you take on the role of Batman™, Superman™, or one of their brave and heroic allies in the struggle against the forces of Super-Villainy! While you begin armed only with basic combat maneuvers, you will add new, more powerful cards to your deck as you go, with the goal of defeating as many of the DC Comics Super-Villains as you can. In the end, the player who has accumulated the most Victory Points from the cards in his or her deck wins the game!
• Play as Batman, Superman, Wonder Woman, Aquaman, The Flash, Green Lantern, Martian Manhunter, or Cyborg. The Justice League is ready for action!
• Each DC Comics Super Hero has a unique special ability that will open up different strategies to the player.
• Card combos, strategy, and fun abound in this game where every card features amazing fan-favorite art.
• Very easy to pick up and play. Its compatible with other Cerberus Engine: Heroes games, a common card back means you can mix your whole collection together for the ultimate throwdown!
• Play co-operative Crisis mode as well, where Players must team-up to overcome these challenging events. The gameplay you thought you knew will never be the same when these ongoing terrors hit the table. Work together to defeat all of the Super-Villains before time runs out! The eight original Super Heroes and 12 original Super-Villains from the first set have been reimagined for the ultimate co-operative showdown. Crisis mode uses eight team-themed Super Heroes, Impossible Super-Villains, and a set of 15 Crisis cards, though not all of them are used every game, so you never know what might come up next.
(If ppl want to play a certain version, I will bring that. Original, Heroed Unite, Forevrer Evil, Teen Titans, Street Fighter)
"Dungeonbattle Brooklyn" Maximum Xcrawl Pathfinder Rules – Donna Nutter
"Xcrawl is a live-on-pay-per-view death sport. You have the honor of participating in the very first Division-IV contest to go Full Lethal."
It's a modern-day world with a fantasy twist, and the game is simple: the Dungeon Judge creates an artificial dungeon under controlled – but lethal – conditions. Your team must go through the dungeon maze and fulfill whatever conditions are put forth in order to win. The maze is stocked it with monsters, secret doors, magical traps, treasure and prizes.
Xcrawl is a sport and the challenges are created, but the danger is no less real. If you die, you die. There are no second chances. Citizens of the North American Empire tune in every week to watch their favorite celebrities get eaten, paralyzed, turned to stone, and ripped apart. The nation's hunger for blood and mayhem grows with every contest. How will you fare?
– excerpted from Goodman Games web site
Call Of Cthulhu (beginners) – Dana Betts
This event (IF offered pending completion of the Megacivilization tournament) will be for beginner players ONLY who have never played Call of Cthulhu. In this game, you are a normal person in horrifying circumstances. Death and/or insanity awaits you. How you get there is the fun part. 🙂
Vampire the Masquerade
***6-6:30 set up, Game from 7-Midnight and Social/SRP from Midnight – 2am.***
** Vampire's: the secret rulers of the Saint John Night, are Celebrating the rise of a new Prince of the City. There will be dancing and gambling and of course social intrigue at this game of social maneuvering.
~But unbeknownst to Many of the Vampires~
Lurking in the shadows is a dangerous beast, that has been attacking underground havens. Will it strike again? Find out at Vampire the Masquerade!
This game is a feature game of the month in the Canada At Midnight club. This game is a great chance for interested players to come and check out what this Larp club is all about! As Story Teller. (GM) I am available at your convenience on the weekend of the Con or anytime before that, if you want to create your own character for play at the game I will be happy to hear from and work with you! The game uses the By Night Studios, Vampire the Masquerade system and takes place in the Old World of Darkness Setting.
We are also looking for people to play some NPCs, both allies, antagonists and a few card dealers. Previous experience with the game is not needed. Anyone who volunteers as a NPC will go into a draw for a $20 gift card.
For information or to sign up or make a character please email: Vanessa A. Klohn masquerade.hodt@gmail.com
Era:Survival – Dana Betts
Demos from the newest post apocalyptic game ERA: Survival
Imagine John Carpenter's The Thing got loose on the world. Freaking things bursting from within and no one is safe… In this demo, a debt needs repaying and a group of brave souls venture beyond the relative safety of the town.
BATTLETECH TOURNAMENT – Darren Drew
Rules for IR 2016 Grand Melee:
– Any IS mech, STANDARD tech, up to JIHAD Era
– Speciality munitions (inferno srms, Armour piercing AC roinds etc.) found in the Total Warefare are permitted
-TSM is permitted
– Unique (Named) Mechs ARE permitted.
-Proxies ARE permitted as some of the jihad era mechs are not available in mini form.
– BV maximum for Mechs and Mechwarrior skills limited to 2800, with no greater than 2 points between gunnery and piloting, i.e. 3/4, 4/2, 2/3 etc
Note: As in previous years, the winner will be determined by points per kill. This year players will also draw a name of an optional target. Killing that player will grant a bonus, if that target is killed by another player, that bonus will be deducated from the player's point total.
Lost Worlds Combat Booklet Tournament – Dana Betts
(8+ players tentative). Will run until the end of the con with people reporting results.
King of Tokyo – Ray Saulnier
After destroying Tokyo and New York it's time to take on the world. First round of tournament pits monsters battling for Tokyo and New York. Top 3 move to final battle for the title of King of the World.
"Mystery of the Haunted Mine" D&D 3.5 – Donna Nutter
"It is 1895. Why has the Cabal of the White Rose summoned you? Are you brave enough to find out?" A Masque of the Red Death style adventure.
Vendors will be welcomed back as usual. 🙂 Vendors table rental fee of $10 per day or $20 for the entire weekend and includes similar gaming pass.
Hippie Comfort Crochet – Jessica Terri Jean Lapointe
Dragonspire Clayworks – Amber Mason (confirmed)
Sue's Crochet Crafts – Sue Henneberry (confirmed)
Knot So Nerdy Designs – Julie Ralston Henderson (confirmed)
Steeped Tea with Alicia – Amber Leighton (confirmed)
Offline Board Game Cafe – Susan Pass (confirmed)
Nikki-Lee Dyckow (confirmed)
Mike Plorde & Jimmy Hachey (confirmed)
Space Pawdyssey – Greg Grondin (Confirmed)
Nerdities – Amanda Evans
Mistreena's Mystic Creations – Megan JM
Kawaii Bubbles – Courtney Jackson and Andrew Morgan
Groovy Anarchy – Ryan Gilbert & Jessy Stuart?
Paintings by Kelly – Kelly Lawton?