16th annual Impossible Realities: Paradigm Shifting in the Void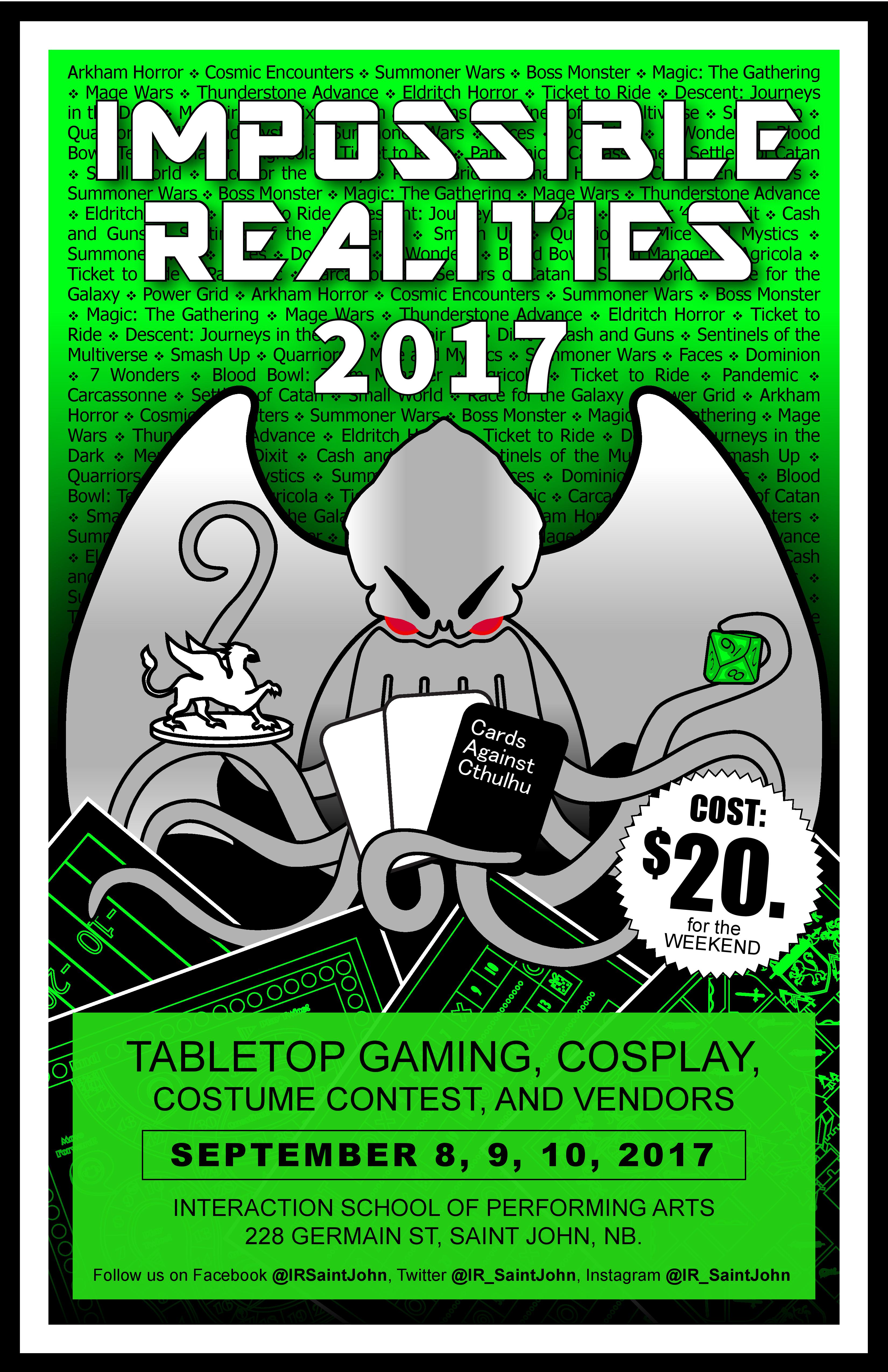 It is time again to get ready for the 16th annual Impossible Realities: Paradigm Shifting in the Void. A full weekend of gaming on September 8th – 10th, 2016, at the Interaction Theatre of the Arts, 228 Germain Street, Saint John.
To add a game to the schedule, contact us on the Impossible Realities facebook page or Steve Henderson or Dana Betts via impossiblerealitiescon at gmail.com
Please feel free to check out the Impossible Realities Facebook page: HERE
Sponsors:
Lady Dovelle / Geb Bernard
Chaos Marmoset / Dana Betts
Adventure-a-Week http://adventureaweek.com/
Blue Panther LLC http://www.bluepantherllc.com/
Brotherwise Games http://brotherwisegames.com
Chaosium Inc. http://www.chaosium.com
Chaotic Shiny Productions http://chaoticshinyproductions.com
CheapAss Games http://www.cheapass.com
Dice Candies www.dicecandies.com
Dreamscape Design http://dreamscapedesign.net
Elzra Corp. www.elzra.com
Flying Buffalo Inc http://www.flyingbuffalo.com
Heroes' Beacon http://heroesbeacon.com/
Pinnacle Entertainment Group http://www.peginc.com
Rio Grand Games http://riograndegames.com/
Stonemaier Games https://stonemaiergames.com
The Impossible Dream https://www.tiltingatwindmills.net
More TBA
Event cost:
Single Day – $10
Full Weekend – $20
ALL WEEKEND SPECIAL FEATURE
Point of Light Productions (Cosplay photography) www.pointoflightproductions.com/
Breakout: 15-minute Escape Room Tent https://breakoutsaintjohn.ca/
Play to Win (More TBA)
Emergence by Stonemaier Games
Patchworks (for two) – Lady Dovelle / Geb Bernard
Camel Cup – Lady Dovelle / Geb Bernard
Terror of Meeple City – Lady Dovelle / Geb Bernard
Pandemic Cthulhu – Lady Dovelle / Geb Bernard
Boss Monster w/ Crash Landing and Implements of Destruction expansions – Brotherwise Games
Cranium – Dana Betts
Pairs – CheapAss Games
Give me the Brain – CheapAss Games
Lord of the Fries – CheapAss Games
Kill Doctor Lucky – CheapAss Games
Forbidden Island – Ryan Finn
Special Guests
Lanthea Cosplay https://www.facebook.com/lantheacosplay/
Moncton Spidey http://www.facebook.com/themonctonspidey
Gregory Grondin www.spacepawdyssey.com
Expect to see added
Board Game Blitz
Magic the Gathering
Dungeons & Dragons (including Adventurers League)
Pathfinder
Live Streaming of Play to Win
Pokemon
Many other Board, Card and Roleplaying games!
Game schedule (More TBA):
http://impossiblerealities.com/gaming-schedule/
Game information (More TBA):
http://impossiblerealities.com/games-information/
Vendors (More TBA):
Vendors will be welcomed back as usual. 🙂
Vendor application available here: http://impossiblerealities.com/vendors-page/
Madhatterplushies – Meagan Hicks www.facebook.com/madhatterplushies
Bitchin' Stitchin' by Kristin – Kristin McCutcheon www.Facebook.com/kbbstitches
Nerdities Creations – Amanda Evans www.facebook.com/groups/569204519784146/
Daydreams & Starlight Studios – Nikki-Lee Dyckow https://www.facebook.com/nikkilee.dyckow
Knot So Nerdy Designs – Julie Henderson https://www.facebook.com/notsonerdydesigns/
Dragonspire Clayworks – Amber Masson