Warhorn Online Registration is LIVE for Impossible Realities 17: Adrift in the Aetherium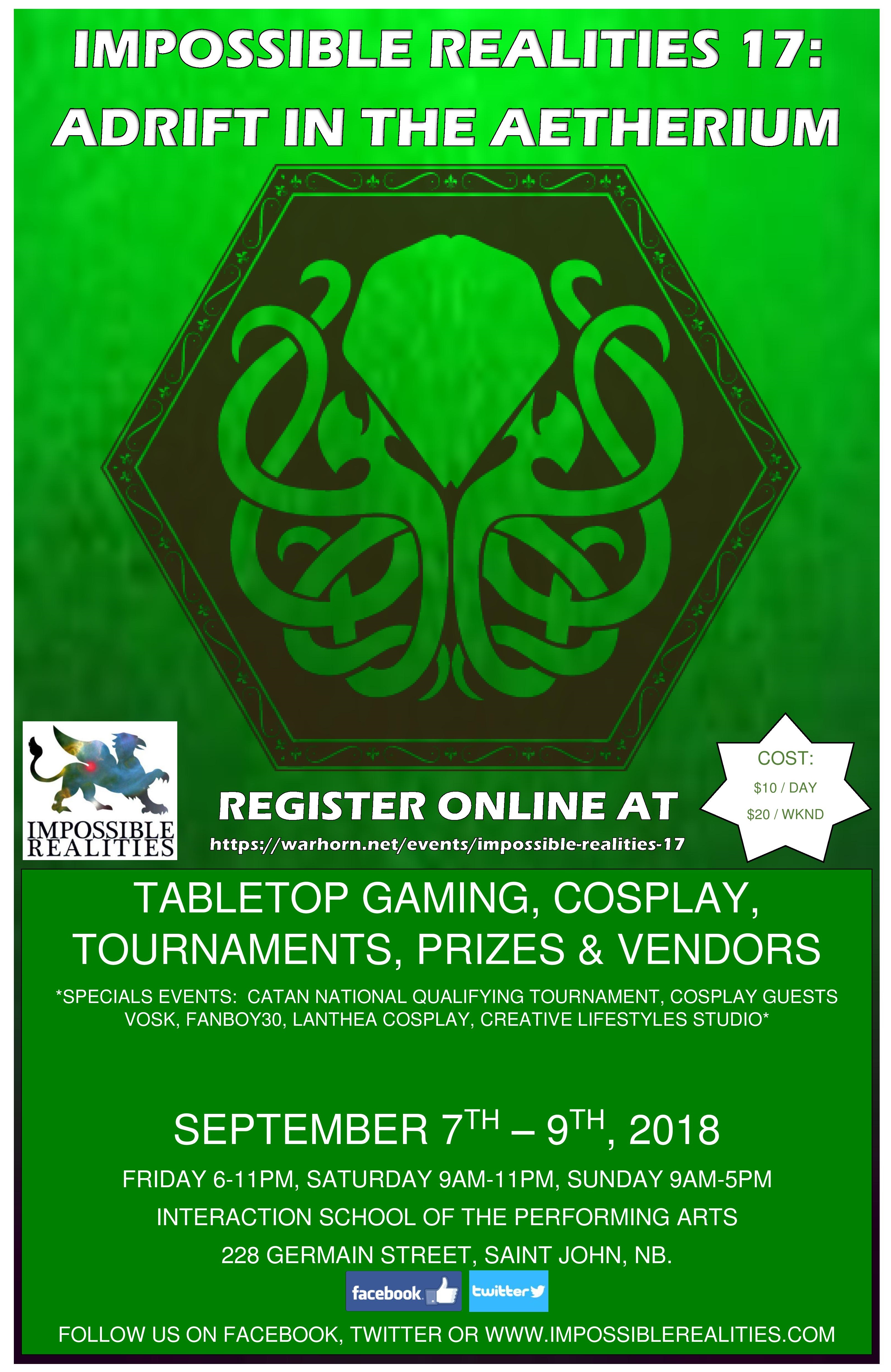 Impossible Realities is returning in September 2018 for it's 17th annual main event: IR17 – Adrift in the Aetherium.
Date: Sept 7 – 9, 2018
Friday 6:00PM – 11:30PM
Saturday 9:00AM – 11:30PM
Sunday 9:00AM – 5:30PM
Cost: $20 Weekend pass, $10 single day pass
Online Registration:
https://warhorn.net/events/impossible-realities-17
Impossible Realities Operations Group 2018
Dana Betts -Executive, Logistics and Game Sponsorship
Steve Henderson – Executive, GM / Game Coordination
Sabrina Barrett Patey – Executive, Cosplay Coordination
John Henneberry – Registration Desk and Finances
Emmerson Rankine & Shannon Milne – Canteen Managers
Laura Jane Gordon – Twitter Promotions, Cosplay Panels and Event Planning
Corey Despres – Website Administration
Ryan Finn – Online Registration Administration
As always, we will be looking for game masters to offer role playing, card games, board games, miniature games and any other table top options. Please contact Steve Henderson or Dana Betts to have any games you would like to host added to the schedule.
To avoid too much overlap, please schedule games in the assigned time blocks (Friday 6:30PM – 11:00PM, Saturday 9:00AM-1:00PM, 1:30PM-5:30PM, 6:30PM-11:00PM, Sunday 9:00AM-1:00PM, 1:00PM-5:00PM)
In addition to the tremendous gaming options that will be available, we will be offering plenty of excitement for our cosplay crowd! If you are interested in hosting a panel or other cosplay activity, please contact Sabrina Barrett Patey
Play To Win games:
TBA
Cosplay Showcases:
Fanboy30 Cosplay and Photography / Matt Parsons
Vosk / Rebecca Lindsay
Lanthea Cosplay / Erica Brookfield
Featured Guests:
Gregory Grondin www.spacepawdyssey.com
Creative Lifestyle Studio
Sponsors
Elderwood Academy
***SCHEDULE***
Friday
6:30PM
Ticket To Ride Tournament – Jeff McNally
"The Eaves of Mirkwood" – Adventures in Middle Earth – Ryan Finn
More TBA
Saturday
9:00AM
Catan National Qualifier
Mega Civilization
MoreTBA
1:30PM
Catan National Qualifier continues
Mega Civilization continues
Star Trek Adventures RPG – Chris Fougere
"Tomb of Horrors" D&D 5E – Ryan Finn
"London's Foggy Streets" D&D3.5 – Donna Nutter
More TBA
6:30PM
TBA
Sunday
9:00AM
TBA
1:00PM
"Zombie Curse" AD&D 1Ed/OSRIC – Donna Nutter
TBA
Many exciting game options that we expect to be added include:
D&D, Pathfinder, Call of Cthulhu, other RPGs
Magic The Gathering, Pokemon
Board Game Blitz, other board game tournaments.-realities-17