Offline Board Game Cafe at MtO March 9th, 2019
POW!!! SURPRISE ANNOUNCEMENT!!!
Impossible Realities is extremely pleased to have one of our fave sponsors (and wonderful freind) Offline Board Game Cafe at March to Oblivion 2019 hosting a silent game auction as part of their Kickstarter fundraiser for "Getting Their Ducts in a Row". Please feel free to put in generous bids to help Offline rebuild and hosting gaming events (and yummy food) sooner than soon!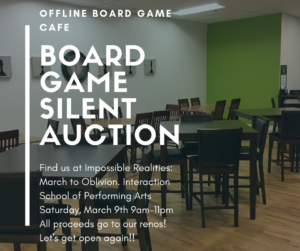 Check out their Kickstarter link HERE