March To Oblivion 2020 March Update (Last one!)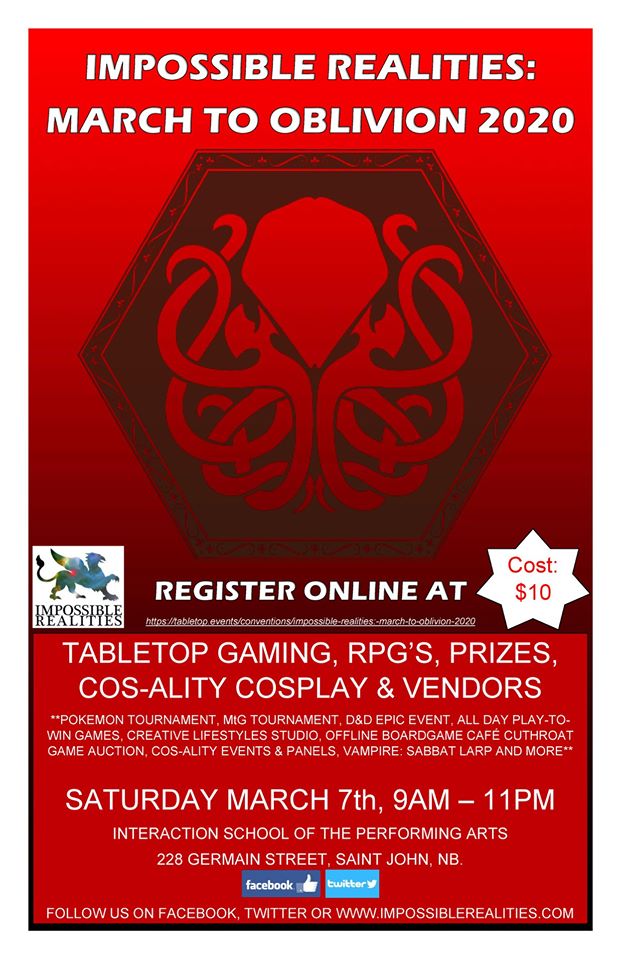 This is March to Oblivion 2020 one day gaming and cosplay convention, with gaming, cosplay, vendors and panels! We're open to one and all for fun, games, Play-to-Win and strange occurrences! $10/day.
Online registration and tickets
https://tabletop.events/conventions/impossible-realities:-march-to-oblivion-2020?fbclid=IwAR0EimiGw-A0Sn2a0wMjPdtAdKXqtEutTNKf4FVsk878A4Tmt_duThEDO_I
Game Information (updates shortly)
http://impossiblerealities.com/games-information/
March To Oblivion 2020 Play To Win Titles
Halekala – Offline Boardgame Café
Captains of Industry – Offline Boardgame Café
3 Wishes – Offline Boardgame Café
Thieves! – Offline Boardgame Café
Isle of Trains – Offline Boardgame Café
Kill The Unicorns – Heroes Beacon
Welcome to Your Perfect Home – Strange Adventures
Killer Bunnies – Geb Bernard
Lovecraft Letter – Geb Bernard
Dungeon Mayhem – Geb Bernard
Boss Monster: Rise of the Mini Bosses – Brotherwise Games
Chomp – Dana Betts
Kill Doctor Lucky – Cheapass Games
Deadwood Studios USA – Cheapass Games
Button Men – Cheapass Games
Stuff and Nonsense – Cheapass Games
Falling – Cheapass Games
Give Me The Brain – Cheapass Games
Before I Kill You Mr Spy… – Cheapass Games
Games (more To be announced!)
Call of Cthulhu: And Some Fell on Stony Ground
Forbidden Lands
Do You Worship Cthulhu?
Hellfire Requiem – D&D AL Epic #1 – Tier 1
Hellfire Requiem – D&D AL Epic #1 – Tier 2
Vampire the Masquerade ~ Sabbat
Dangerous Endeavors D&D
Call of Cthulhu Redux: Fade To Black
Warhammer Fantasy Roleplay-4th Edition
SEVEN Pathfinder Society Offerings
Pokemon Tournament
Magic The Gathering Booster Draft Tournament
Feng Shui
Dungeons & Dragons
D&D Adventurers League
Rising Sun
Tails of Equestria: My Little Pony RPG
COS-ALITY COSPLAY PANELS AND GUESTS
Damiana Markey Panel
Princess Dann Panel
Camo_Panda_050
Disney Sing Along
Scott Walsh and his Superlative Radio
ON SITE VENDORS
Sue's Crochet Crafts
Daydreams & Starlight Studios
Standard Adventuring Gear / Comic Smithing
Binary Artea
Prairie Girl Creations
Metal Blossom
Saint John Board Game Design Guild
Creative Lifestyles Studio
Comic Hunter
SPONSORS
Heroes' Beacon
Offline Boardgame Cafe
Strange Adventures Comix and Curiosities (F'ton and Halifax)
The Comic Hunter
Elderwood Academy
Blue Panther LLC
Brotherwise Games
Chaosium Inc.
Sand Hat Games
Evil Hat Productions
and the wonderful Geb Bernard
AND EVEN MORE TO COME!